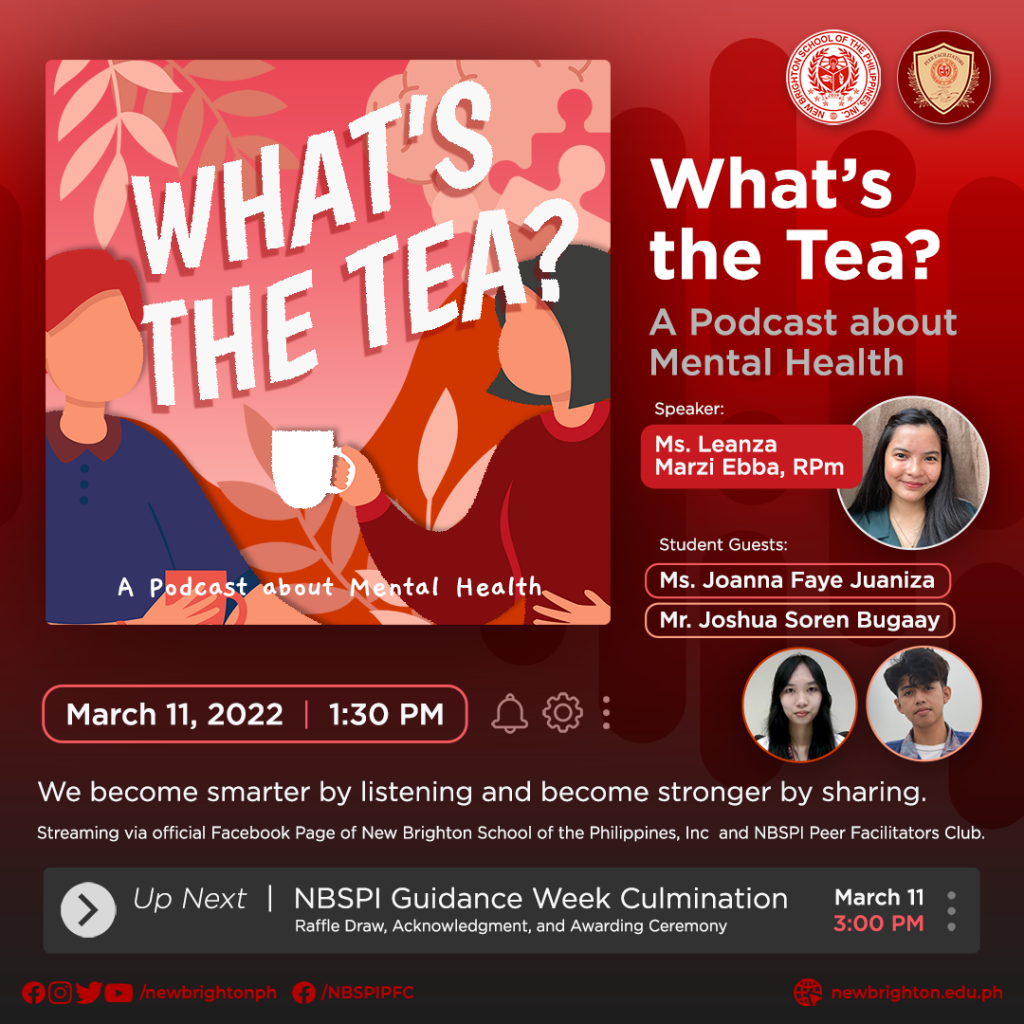 "𝙒𝙚 𝙗𝙚𝙘𝙤𝙢𝙚 𝙨𝙢𝙖𝙧𝙩𝙚𝙧 𝙗𝙮 𝙡𝙞𝙨𝙩𝙚𝙣𝙞𝙣𝙜 𝙖𝙣𝙙 𝙗𝙚𝙘𝙤𝙢𝙚 𝙨𝙩𝙧𝙤𝙣𝙜𝙚𝙧 𝙗𝙮 𝙨𝙝𝙖𝙧𝙞𝙣𝙜"
Due to the very dynamic demands and challenges brought by the pandemic, education has really changed since then. With these changes, institutions like New Brighton School of the Philippines Inc. have really shifted to the online and modular blended learning system and initiatives.
These big changes in education have really placed various challenges among students too.
In celebration of Guidance Week, NBSPI, together with its Guidance & Testing Center & peer Facilitators Club, will have a Podcast about Mental Health dubbed as "What's the Tea?". This will be streamed LIVE on the Facebook Page of NBSPI this coming March 11, 2022 at 1:30PM.
Resource Speaker will be 𝘔𝘴. 𝘓𝘦𝘢𝘯𝘻 𝘔𝘢𝘳𝘻𝘪 𝘌𝘣𝘣𝘢, 𝘙𝘗𝘮 and she will be joined by some student guests as they discuss the state of students' mental health and their struggles in times of the pandemic and distance Learning.
The Guidance Week CLumination will follow after at 3PM.